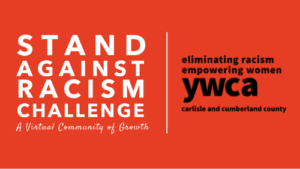 Previously called the 21-Day Equity Challenge, the Stand Against Racism Challenge is now a national initiative for YWCA across the country!
What if the most important voice in the conversation about Racial Equity and Social Justice is your voice. What if you had a seat at the table? What would you say? What if your voice is the one that is missing?
YWCA Carlisle & Cumberland County is taking a journey into racial justice learning, joining other YWCAs in this National challenge. And we are challenging you to join us. It will take 21 days of commitment to looking honestly and openly at your own story. Research shows it takes 21 days to create a habit – good or bad. Everyday, we'll have tools to help you on your personal path of growth. We will focus on issues local and global, personal and professional.
Accept the challenge as an individual, with friends, or form a team with co-workers or peers. Just accept the challenge to jumpstart a new way of seeing the world and practical ways to support all people of color who you meet – every single day – and become a part of the solution. Register today, and select Carlisle & Cumberland County under Which YWCA are you participating with? to learn alongside our community.
Join the Challenge!
Interested in more actionable ways to show you support? Join us for our Race Against Racism on May 14th!
Register Today!